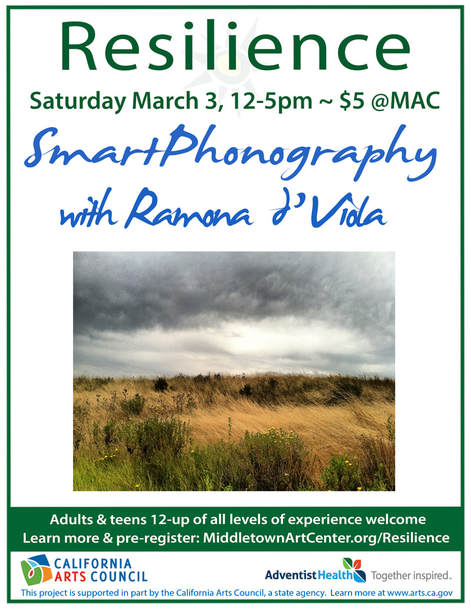 "The best camera in the world is the one you have with you!" says instructor Ramona d'Viola "You don't need a fancy DSLR to create frame-worthy photos – you've got a terrific camera in your a smartphone. If you're ready to move beyond selfies and pics of your last meal, this class will teach you how to document your journey, artfully."

Now in its 9th month, MAC's Resilience Project offers low cost, high quality art classes in photography, creative writing, painting and printmaking. You don't have to be an artist to participate. We encourage adults of all ages and teens 12-up of any level of experience with the arts to attend – one or many classes.

Class schedules cycle through the 1st through 4th Saturdays of the month until May 2018, and culminate in County-wide exhibits, along with a chapbook of writings and images created by Resilience Project participants.

"The Resilience Project was born of witnessing nature's rebound as an inspiration and mirror for our own resilience and recovery after the fires of 2015 and 2016," said Executive Director, Lisa Kaplan. "At MAC, we encourage everyone to engage in art making for self expression, healing, fun, and perceiving the world around us in new ways."

We'll take a lunch break, so bring your lunch, or plan to purchase a meal in town and we'll break bread together. Bring a hat and wear good walking shoes!