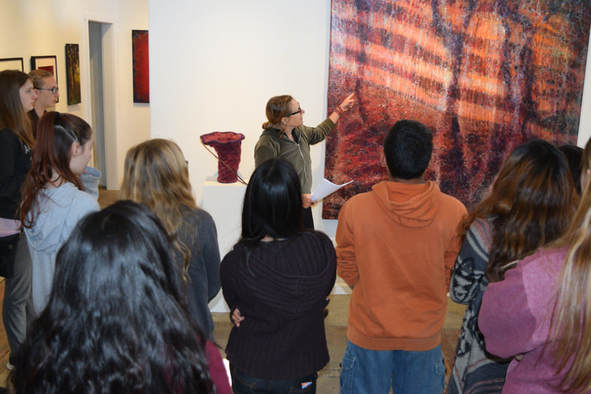 MAC offers schools guided tours through the gallery followed by hands on activities in the studio. To find out more,
​email middletownartcenter@gmail.com or call 707.809.8118.

Have you noticed how engaged your students are when they are involved in structured creative projects? The Middletown Art Center (MAC) provides exciting visual arts opportunities right here in Lake County!

Fieldtrips to MAC are a way for your students to gain quality cultural exposure that is locally accessible. Highly qualified and experienced teaching artists guide students through exhibits in MAC's contemporary art gallery, followed by hands on art making in the studio-classroom. We provide didactic explorations into art history and theory in an age-appropriate context that can be customized to align with grade level standards K-12. Our understanding of the world around us comes alive and takes on new meanings through the lens of art and artistic expression!

MAC's fieldtrips are affordable, yet we understand that districts, schools and families have varying budgets. We also are aware that busses make field trips more costly. Thanks to the Lake County Wine Alliance, MAC is able to offer a subsidy to school groups throughout the county. In partnership with the Lake County Historical Society we can accommodate groups of up to 60 students in a round robin fashion with the Gibson Museum.

At MAC we believe that our understanding of the world around us comes alive and takes on new meaning through the arts and artistic expression. The Arts are a gateway into the natural world, diverse cultures and history, and facilitate compassion for oneself, and others. It is documented that the arts support students' academic achievement and self esteem, and encourage both personal growth and collaborative work. Our goal is for art and art education to be accessible to all Lake County children so that they will grow up with art being a relevant and integrated part of their lives!